Fiction
I have been writing short stories with a philosophical flavour for years (some have even won prizes!), and my first novella, Frankenstein, was published on Amazon.
All books described below are availabe as Kindle books: if you don't have a Kindle you can download free readers for Mac, PC, iPad and smartphones. You can also read the first part of each for free to see if you'll like it.
The Just Hunter Series
Frankensteel is "hard" (scientific rather than fantasy or space opera) science fiction with strong characters and a philosophical bent: if you like gripping, engaging fiction that also makes you think, you will love this book. It is the near future, and in the conflict between advancing high technology and its opponents, the world's first intelligent robot violently escapes its creators and the men sent to shut it down. This novella follows the intertwining lives of the people trying to find, save or destroy the robot, and explores the philosophical implications of artificial intelligence and what it means to be human. Find out more or buy here.
The Geneh War: a novel that is the prequel to Frankensteel. In a world 20 years after the last geneh (genetically engineered human) was killed, new detective Miriam Hunter discovers evidence of a geneh thief working in her city, and she follows a broken trail of contradictory clues through a path of secrets and betrayal that might lead all the way to the President. More than just a gripping story, it delves into the philosophy of genetic engineering, justice and the law. Also available in paperback.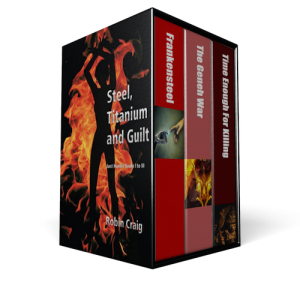 Steel, Titanium and Guilt: "I don't deserve to die…" A deadly war robot is about to kill a young rebel woman, when something she says stops it in its tracks.A car careens off a cliff, and in it are found the remains of a renowned detective, who had been investigating a series of strange disappearances in a city far from home.These incidents set the stage for three intertwined sequences of events, as the machine sets out to discover its true nature, the woman it spared seeks to end the war ravaging her country, and we follow the detective's fatal path on the trail of a terrible secret. As the threads of these quests come together, it becomes a race against time and hidden enemies to discover the truth before all is lost. If you like an exciting plot, strong engaging characters and an intriguing mystery, this novel is for you. It will make you think, as it explores the philosophical and moral questions raised by the unfolding drama of its events. Time Enough for Killing is third in the Amazon hot-listed Miriam Hunter series Just Hunter, and is set a few months after the events in Frankensteel and several years after The Geneh War.
Steel, Titanium and Guilt: All three of Frankensteel, The Geneh War and Time Enough for Killing, in a single volume.
The Passion of Judas
The Passion of Judas is my first historical novel, let alone one with a religious theme. The story of Jesus, Judas and Mary Magdalene as you've never imagined it before!
Short Stories
Petit Four is a collection of four short stories where things are rarely what they seem. Each story has a different theme: a fable set in the land of the lotus eaters (Genesis), the investigation of a mysterious death (Fade), tragedy in a forest (Requiem) and the sadness of a decaying mind (The Old Man). Each is written in a poetic style that enhances the mood of the story. These are stories meant to enthral and entertain while making you think – and feel. Find out more or buy here.
I hope you enjoy reading them as much as I enjoyed writing them!